Chandrayaan-2 rover intact? Shanmuga Subramanian, a Space Enthusiast from Chennai who identified that rover Vikram lander's debris using the NASA Lunar Reconnaissance Orbiter last year, Is now claiming that the Pragyan rover is intact and also moved a few metres.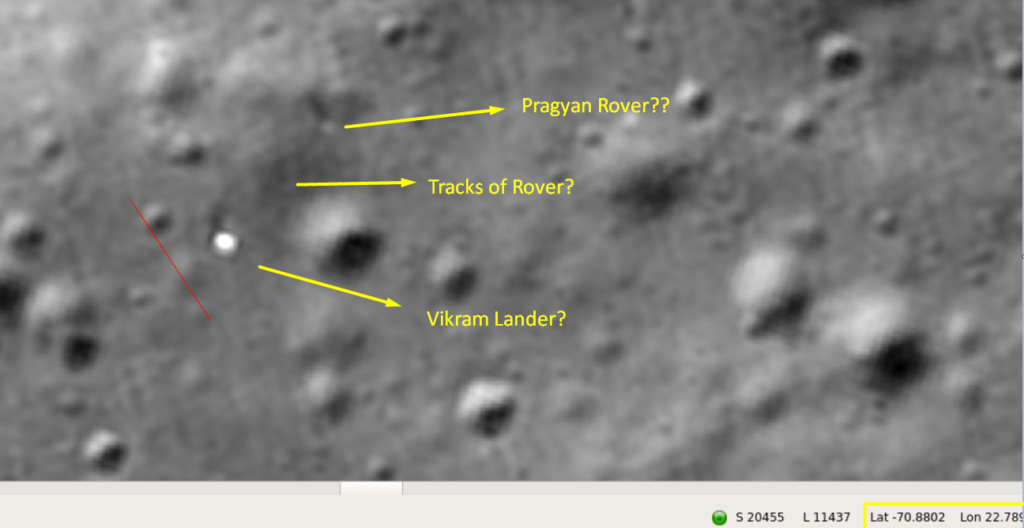 Using the latest images from NASA's Lunar Reconnaissance Orbiter Subramanian tweeted "Chandrayaan2's Pragyan "ROVER" intact on Moon's surface & has rolled out few metres from the skeleton Vikram lander whose payloads got disintegrated due to rough landing".
ISRO Chairman K Sivan said, "We have received communication from the person who claimed he(Subramanian) found Vikram debris. Our experts are analysing the same".
Subramanian tweeted"1.Debris I found was of Langumir probe from the Vikram lander 2. Debris NASA found might be from other payloads, antenna, retro braking engines, solar panels on side etc., 3. Rover has rolled out from lander & has actually travelled few metres from the surface"
He(Subramanian) said that it was difficult to detect the rover because it is present on the South Pole of the moon, which is "not always well lit" and the lander was in a shallow depth of 2 ms from the surface so it was not visible in Nov 11th's NASA's Lunar Orbiter flyby due to different angle of incidence & would be difficult for anyone to find it unless the sun is directly above the surface.
He further tweeted, saying " Since sun is never directly above moon's surface in that region, it would have been so difficult, the above image was taken on Jan 4th, 2020.
He continued "It seems the commands were sent to lander blindly for days & there is a distinct possibility that lander could have received commands and relayed it to the rover.. but lander was not able to communicate it back to the earth"
Tweeting a picture taken by NASA's Lunar Reconnaissance Orbital (LRO), Shanmugam said the white dot might be the skeleton lander devoid of other payloads and the black dot might be the rover.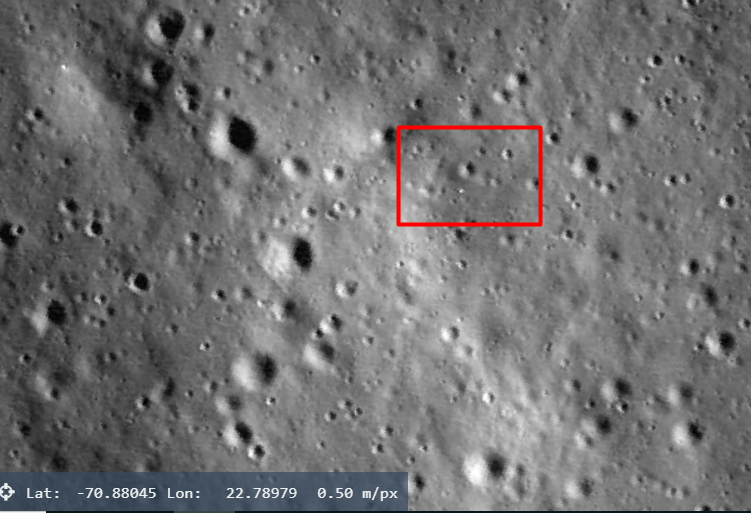 He also clarified that he was still waiting for a confirmation from ISRO.
Vikram lost contact with ISRO following its launch from Chandrayaan-2 moon orbiter on September 6 last year when it tried to make a soft landing near the moon's south pole.
July 21, 2020 marked a year of the launch of India's second moon mission by a Geosynchronous Satellite Launch Vehicle (GSLV)-MkIII-M1.
It was on July 22, 2019, when the GSLV-MkIII-M1 rocket, blasted off from the second launch pad from Sriharikota in Andhra Pradesh carrying Chandrayaan-2 Orbiter, Vikram lander and Pragyan rover.
Read more about all the upcoming launches here.
Additional Resources: