It's all part of SpaceX's greater plan to build a rocket that can do it all, from ferrying passengers around the globe to hauling cargo to the moon and Mars.
Over the last 100 years, air travel has become accessible to almost everyone through the increase in airline safety and the reduction in ticket prices.
But as current airplanes continue to evolve, the limitations of physics have stopped us from going faster and further.
But what if there was a new method to Earth travel that would cut flight times massively?
Read: SPACEX AND NASA TARGETING OCTOBER FOR NEXT CREW DRAGON LAUNCH
Space companies Virgin Galactic and SpaceX are trying to make this a reality by using their rocket powered vehicles for super-fast travel here on Earth.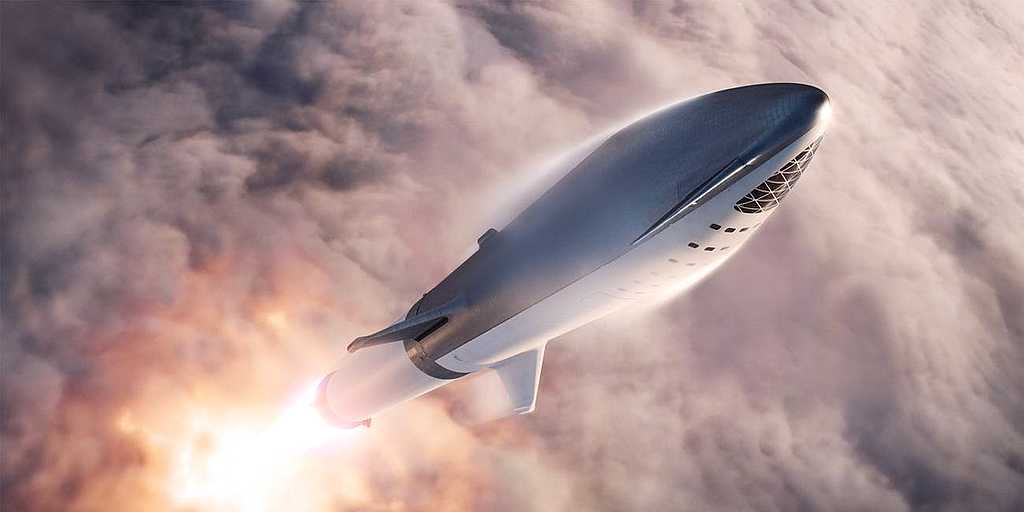 SpaceX plans to use their Starship rocket, primarily designed for Mars, to transport passengers to major cities on Earth.
Since these flights would go above the Earth's atmosphere, it would allow the rocket to reach much higher speeds than an airliner.
Read: SPACEX TO SET UP A BASE ON MARS! HERE'S WHAT THEY PLANNED TO DO FIRST.
This means that flights to anywhere on Earth could be done in less than an hour. The ride itself would not be smooth, as passengers would experience g-forces during launch and landing similar to riding a rollercoaster.
However, for the majority of the ride, the rocket would be coasting through space and passengers would experience zero-gravity.
This makes the design of inflight amenities like bathrooms and food carts much more complex. However, since the flight times would be so short, the need for such amenities might not be so high.
Virgin Galactic is also exploring the potential of Earth to Earth spaceship travel – but their method is completely different. Instead of a rocket, Virgin is developing a rocket powered space-plane which can be carried up to high altitudes and launched in mid-air.
Both methods could theoretically reduce flight times by an enormous margin – but before either of these companies can launch passengers around the globe, they have to overcome a lot of challenges.
Read: HOW SPACEX ROCKETS LANDS AUTONOMOUSLY ON A DRONE SHIP AND LAND
In order for SpaceX to get around the enormous amount of sound produced by their rocket, launches would need to take place far away from cities, perhaps out in the ocean.
All of this will require more transportation for passengers getting to and from the launch site. Virgin would likely have less trouble getting regulatory approval since their take-off and landing procedure is much more similar to traditional air travel and could use the pre-existing infrastructure of airports.
Virgin has plans to build a network of spaceports around the world including one in the south of England which is currently under development.
This additional spaceport would allow Virgin to perform transatlantic test flights to and from their existing spaceport in New Mexico.
But even if both companies get passed the regulatory approval, they still face massive challenges in the form of ticket prices.
Read: FIGHT FOR REUSABLE ROCKET, WHO IS GOING TO DOMINATE FUTURE SPACE INDUSTRY?
A rocket needs to be as reusable as an airliner in order to achieve similar ticket prices. Although Virgin's plan seems more familiar to current air travel, it will have a harder time achieving a reasonable ticket price.
With such a small vehicle, only 6 passengers and 2 pilots can fly at a time, making the cost per ticket much higher.
Despite the price, almost 700 eager passengers are already on the waiting list for a suborbital flight aboard VSS Unity.
But before these passenger flights can become a reality, both companies will need to overcome one of spaceflight's greatest challenges, safety.
In 2017, the aviation industry had just 1 death for every 60 million passengers. So far, the spaceflight industry has a rate of 1 death for every 32 astronauts, since out of the 570 people that have been into space, 18 have died.
Meeting the safety standards remains a challenge across all commercial spaceflight, especially after the tragic crash of Virgin's VSS Enterprise in 2014.
Although passenger travel could save us a huge amount of time, one thing that is often overlooked is the physiological impacts it could have.
Read: SPACEX BEATS BOEING? HOW SPACEX WON SENDING ASTRONAUTS TO SPACE
Travelling around the world this fast could have weird effects on our bodies since we would be deprived of the usual day/night cycle.
Passengers could wake up to watch the sunrise, then travel across the world to watch the sunset in less than an hour.
This rapid change in time zones would create a much more intense feeling of jet lag than we are used to from regular airline travel.
Whether SpaceX or Virgin Galactic can turn the dream of Earth to Earth rocket travel into a reality remains unknown.
However, commercial space programs are making huge strides towards achieving this revolutionary method of transportation in order to make our future much more exciting!
Additional Resources: